Get On-Site Computer Repair in Melbourne
CROS, a Leading & Reliable Name to Provide Rapid Computer Support in Melbourne
When the system works smoothly, the work experience is great. But when we face technical errors, things get frustrating and sometimes, overbearing. Even some seemingly minor problems like a hung-up or frozen system can actually result into serious problems. Thus, it makes sense to consult a real expert or someone willing to visit at your doorstep to diagnose and provide the best solutions.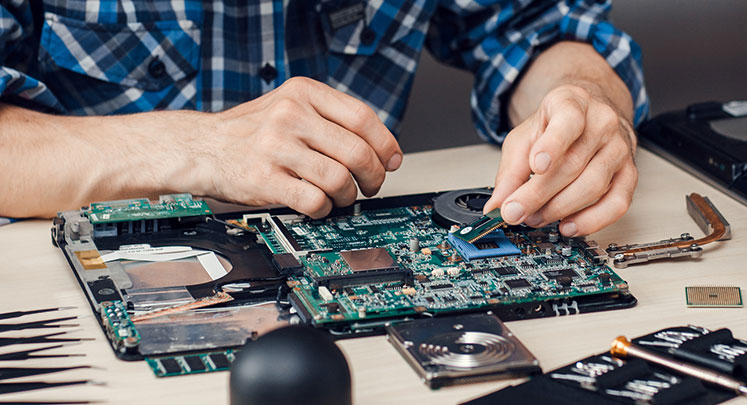 At CROS, you will get basic to advanced PC repair services in Melbourne. We offer cheap laptop repair services in Melbourne. Most computer-related solutions are solved onsite such as software upgrades and repairs, cleanup of hardware, changing cables, attaching network, and maintenance. If any advanced problems are detected, our expert technicians discuss the problem with you in detail and try to fix it at the earliest. If a replacement is required, we replace it with the same brand products so that the system gets back its smooth performance.
Give us a call at 0386521589 or email us at info@computerepaironsite.com.au to get help within no time. Our Melbourne computer repair services are offered on time.
Our Top Computer Services in Melbourne
Blue Screen of Death (BSOD)
It is a Microsoft Windows-related error. It may cause hardware or driver-related issues. The problem is often accompanied by an error code. Our technicians are capable of handling the error.
Windows systems face a DLL error. It means a DLL file is either corrupted or gone missing. This type of file is a dynamic link library file, holding codes, procedures, and instructions for programs.
When apps slow down or hang, there could be more than one reason. However, the most common problem can be related to processing power and memory. We work on your random access memory or RAM by expanding its storage limit.
It is a type of software that can damage or disable the system. Malware attack your system without any notice. It can enter the system while browsing the internet or emails. Our experts keep themselves updated with the latest malware and viruses.
It can lead to serious problems, but the good news is that a hard drive is replaceable. Before replacing a hard drive, we keep backup of your data as and when possible.
During advanced issues, usually hardware related, a system can freeze or lock up. The problem can arise due to software problems. Our experts try to find out the root cause of the problem to fix it.
When a system runs, multiple functions work in the background that can cause noises arising from the hard drives, optical disk drives, and cooling fans. A distinct noise can be because the system begins to age or the drive is failing. We can fix all such issues for you.
As power flows through the parts inside the system, it can heat up that is natural. When the heat inside the system grows too high, it can cause damage to the computer parts. You cannot ignore the problem.
If the system is not set up correctly, it may not utilize the complete RAM or use a fraction of it. To fix the problem, you don't need to move to a computer store in Melbourne. Our expert will fix the issue onsite.
Key Features of Our Computer Repair Service in Melbourne
On-time support of repairing within 24 hours of booking
Book your computer repair services through phone or email
Computer repair by certified technicians
Using branded products for replacement services
Call us to repair laptops and computers of Windows, Linux, and Mac of brands like Apple, Sony, Lenovo, Dell, Microsoft, Asus, HP and many others